Today Google has announced start of an in-browser weather application for Android and iOS users. If you type in Web-browser search bar "weather" you will get current weather, using GPS for location.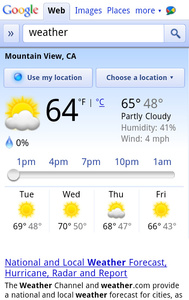 iPhone users have opportunity to see the hourly forecast for next twelve hours by using slider bar.
As for Blackberry owners - this applications isn't available for them for now as for users who need other language than English.
Reference: afterdawn.com